Group Classes
---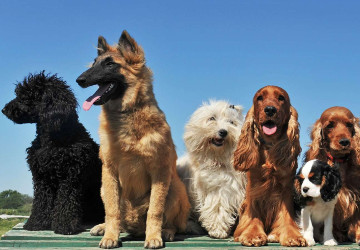 Group classes are effective and easy, even for those new to training. Only current, science-based, dog-friendly methods are used in class, so classes are always an enjoyable learning experience for both you and your dog (and the whole family - kids can be great trainers too!). Classes are grouped into four-week sessions to better accommodate what individual clients are interested in learning with their dogs and also to make classes more affordable.
Classes with Skye's Dog Training:
Clients will learn easy and effective ways to shape and improve their dog's behavior.
Classes help dogs to develop focus and attention in distracting situations.
Super small class size (limited to only 4 dogs per class, with the exception of the "Puppy & New Dog Basics" class) means clients get plenty of one on one assistance.
Classes are family-friendly so everyone can participate!
Relationship-based training methods foster respect and understanding to increase the bond between clients and their dogs.
ONLINE CLASSES AVAILABLE!
Skye's Dog Training will be offering only ONLINE LIVE group classes and private training sessions until the end of August of 2020 (and at that time in-person training classes will be considered depending on safety and regulations). Online training classes will be offered through Zoom; Skye's Dog Training will email clients detailed instructions on using the free program when clients sign up for a class. Skye will also be available for assistance to walk clients through the process if issues arise.
Online Group Class Benefits:
Clients can join a live online 4-week group class through Zoom where class meets online weekly at designated date/time. During class clients will receive individual feedback and help during the Zoom class where there are a maximum of only four dogs per class (in-person classes had a five dog maximum; Skye has lowered this to four dogs for online classes for more individual assisting time) with the exception of the "Puppy & New Dog Basics" class which allows for more clients to sign up.
Any and all family members may participate regardless of age! Other canine members of the family may also participate at no additional cost (however, client's individual assistance time will be limited to one dog per skill covered during class time to make it fair to all participates so that all client's have an equal amount of individual time).
Each week after class, clients will receive a link to re-watch their specific class at any time for review!
Possibly the best part: everyone gets to experience the joy of watching dogs learn and master skills while having fun in a supportive environment!
Group Classes
click to expand / collapse