Group Classes
---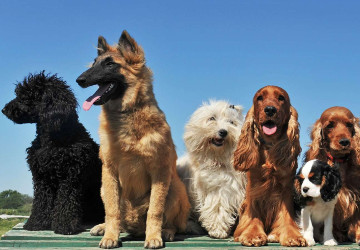 Group classes are effective and easy, even for those new to training. Only current, science-based, dog-friendly methods are used in class, so classes are always an enjoyable learning experience for both you and your dog (and the whole family - kids can be great trainers too!). Classes are grouped into four-week sessions to better accommodate what individual clients are interested in learning with their dogs.
Classes with Skye's Dog Training:
Clients will learn easy and effective ways to shape and improve their dog's behavior.
Classes help dogs to develop focus and attention in distracting situations.
Small class size (limited to only 4 dogs per class, with the exception of the "Puppy Basics" class) means clients get plenty of one on one assistance.
Classes are family-friendly so everyone can participate (children should be age 8 and up to attend and only two people per dog are allowed in class each week).
Relationship-based training methods foster respect and understanding to increase the bond between clients and their dogs.
In-person classes available with safety precautions!
Skye's Dog Training is offering in-person training classes with extra health safety precautions in place. Only four dogs will be allowed per class with two people maximum per dog attending the class; this will keep each class to an 9 person maximum (including the instructor, Skye). The exception to this rule is Puppy Basics where 8 puppies will be allowed but only one person per puppy to keep to the 9 person maximum in the building.
The instructor will always be wearing a mask throughout class and all clients will be required to wear a mask while walking in to the building and throughout the class. If clients are unable to wear a mask due to medical reasons, virtual training through Zoom is available as a safe alternative.
Hand sanitizer will be available in the training facility. Chairs and doorknobs will be sanitized in between classes.
Group Classes
click to expand / collapse