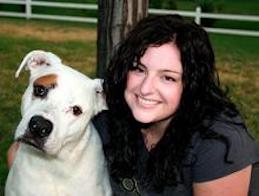 ---
Background
Motivation & History
---
Skye Poitras, owner and trainer of Skye's Dog Training, is a Certified Behavior Consultant - Canine (CBCC-KA) in the Salt Lake City area and is also a Certified Professional Dog Trainer (CPDT-KA) through the Certification Council for Professional Dog Trainers.
Skye grew up in the Salt Lake area, graduating from the University of Utah in 1999 with a Bachelor's in Business Administration. Before becoming a dog trainer, she worked as a media buyer, first in Portland, Oregon, and then in San Francisco, California.
While living in San Francisco, she spent most of her weekends volunteering at the Berkeley City Animal Shelter walking dogs and working on training basics to make them more adoptable. Volunteering led to a passion for helping shelter animals and an understanding of the importance of training (and the human/dog bond that is formed during training) that is essential for keeping animals in their homes.
By 2003, Skye was tired of the corporate world and tired of working late on deadlines. She just wanted to be home hanging out with her family and dogs! She quit her job and moved back to Portland to do something she had a passion for: working with dogs.
In 2004, after a year of training to be a trainer, Skye started her own business, Skye's Dog Training. Since 2004, she has been teaching classes — ranging from puppy socialization to Canine Good Citizen to Service Dog Training — and helping clients through private training consultations with everything from house-training to aggression and fear issues.
When her daughter, Austin, was born in 2006, Skye added "full-time mom" to her job title and found a whole new respect for the time constraints facing families with children and dogs. Skye loves working with families to help everyone in the family develop a great relationship with their dog through positive reinforcement training and mutual respect.
In 2008, to be closer to family, she decided to leave Oregon and relocate her business to Salt Lake City. Since moving back to Salt Lake, Skye has started working with several local and national organizations through her training business.
One program Skye particularly enjoys working with is Best Friends Animal Sanctuary's "Canines with Careers" program. Her work with this program includes evaluating rescue and shelter animals to be placed with clients in need of a working dog to train as well as providing funding for training to low-income clients .
Skye's areas of expertise include the assessment, management and rehabilitation of dogs with aggression issues, separation anxiety, generalized fearful behavior and phobias and the training of Psychiatric and Autism Assistance Service Dogs. But of course Skye also loves working with puppy and adult dogs (of any age & any breed) on the basics and beyond to help them live harmoniously with their families.
---
Training approach
Humans • Dogs • Harmony
---
Skye uses positive reinforcement training which uses science-based methodology to reward desirable behaviors with things dogs want (and things we give to them anyway!) like food, toys, attention, praise and access to resources. Through "operant conditioning", animals learn an association between a particular behavior and the consequence of that behavior, which means when an animal is rewarded for a desirable behavior, the behavior happens more and more often. The most successful modern training theories suggest that positive reinforcement is the most effective way to train any animal.
Skye teaches clients how to get desirable behaviors from their dogs to happen so clients can get the results they want. In addition to rewards, dogs need consistent rules and boundaries, so clients will also learn the most effective ways of providing humane, constructive discipline and implementing management techniques to eliminate the undesirable behaviors.
Skye uses Applied Behavior Analysis (ABA) to address minor to serious behavioral issues such as destructive behavior, aggression and much more. ABA is defined as the science in which the principles of analysis of behavior are applied to improve behavior, and in which experimentation is used to identify the variables responsible for change in behavior. That sounds complicated but it really isn't! Basically, ABA is a psychological approach that helps to modify behaviors as part of a learning or treatment process. Many psychologists use ABA to help their human clients, and ABA-based procedures have been implemented across a variety of settings including hospitals, schools, homes, and more with great success. For more information on ABA with animals, a great resource is Utah State Psychology Professor Dr. Susan Friedman, whose Living and Learning with Animals courses emphasize fundamentals of applied behavior analysis.
Skye became a trainer with the hope of helping others to have the same deeply enriching bond that she has had with her dogs. Her personal goal in training is to create a lifelong harmonious relationship between human and dog based on respect and understanding.
---
CBCC & CPDT
Certification • Quality
---
Skye is both a CBCC (Certified Behavior Consultant - Canine) & a CPDT (Certified Professional Dog Trainer). The Certification Council for Professional Dog Trainers serves to establish and maintain a recognized level of competence in dog training by certifying professional trainers through strict criteria.
CPDTs and CBCCs have earned this credential by demonstrating their knowledge and experience in dog training and behavior through required training hours, testing, continuing education credits, client and veterinarian recommendations. They are required to be informed of current knowledge and developments in the field of training and behavior and are familiar with the latest, most effective training techniques and equipment.
The Certification Council for Professional Dog Trainers is committed to maintaining rigorous testing and recertification systems to provide dog owners with information to help them make an informed choice when selecting a dog trainer or behavior consultant.